Become an Affiliate
Spread the word about NEEDGFX and earn recurring commissions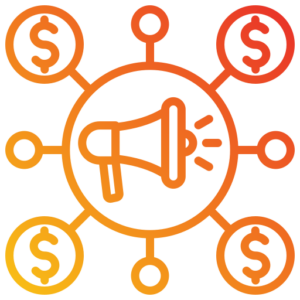 NEEDGFX Affiliate Program
Love NEEDGFX.COM and want to recommend it to others?
Then join NEEDGFX Affiliate Program and earn 20%+ recurring commissions for referring new clients. 
It's free to join.
Just follow the step-by-step instructions below to get started with the affiliate program.

Apply to Become an Affiliate
To become a NEEDGFX affiliate, please fill out the form. We will review and get back to you
Within three business days.

Start Promoting NEEDGFX
Promote NEEDGFX using your unique referral link via email, blog articles, video tutorials or reviews, podcast, social media or events.

Earn 20%+Recurring Commissions
Once customers Make purchases using your referral link, you'll make 20% recurring commissions over the life of each customer.
Register as Affiliate
Your account will need to be approved before you can earn Referrals. You'll receive an email once it's approved.
Login as Affiliate
Frequently Asked Questions
How do I sign up for this program?
Complete the form. Once we receive your details, we review the same and get back to you within three business days.
How do you track clicks and sales?
NEEDGFX affiliate program is managed by Solid Affiliate. Solid Affiliate uses cookies to track clicks and sales via your unique referral link.
How much commission do I earn?
You'll earn 20% or more recurring commissions over the life of each customer.
Can I track my earnings?
You'll be able to track clicks, conversions and commissions from within your Affiliate account.
Can I buy traffic and send through my referral link?
Buying traffic on Google or any other search engine using your referral link is strictly prohibited.
Who can I refer?
You can refer any business / Person that is not an existing NEEDGFX Customer.
How long is your cookie life?
60 days. If someone upgrades to a paid plan within 60 days after clicking the referral link, you receive the commission.
Is there a limit on the amount I can earn?
There is no limit to the number of customers you can refer or the amount you can earn from this program.
How do I get paid?
Your earnings will be paid out every month via PayPal as per the payout schedule once you have unpaid commissions of at least USD 50.
Have more questions?
We're always here for you. Drop us an email at: Jamar@NEEDGFX.com